I'm sure by now most people are aware of a new round of scams where victims are being called by a 'support company' suggesting that the victim's computer has malware installed which they can fix. If you need it, this BBC article covers the basics. Well, I just got the call 😉
First up the caller seemed to be auto-dialling large volumes of numbers looking for someone to pick-up as the caller (male, poor line quality meant I missed the name given) was unprepared when I answered. The caller was clearly reading from a script, I may have over-played the 'Sorry, I'm just a dumb user that knows nothing about computers card' but despite telling him I was clueless and willing to accept everything he told me I was still present with a long winded argument for 'if you don't believe us this is how I'll prove it' speech.
Unfortunately I wasn't able to through the full process as, despite telling my new friend otherwise, I wasn't able to get to a Windows machine to work through the process. Only laptop to hand was my netbook running Ubuntu, and my landline isn't mobile so I couldn't head up stairs. (My landline never rings, everything I do is via mobile and only have landline for ADSL connection. I'm suspicious of all landline calls before I even pick up the phone.)
After ensuring I was looking at the system wallpaper, I was instructed to press the 'key on bottom left of keyboard with four squares that looks like the Microsoft logo' and with another finger press the 'r' key. This is where I was given 'proof' that my system was infected, using a 'hidden' command that will list all infections, what is the magic command? inf (for 'infections'), which opens Windows Explorer in C:\Windows\inf, screenshot below shows the infections on my system. I'm guessing at this point, the every user may have just entered dummy mode.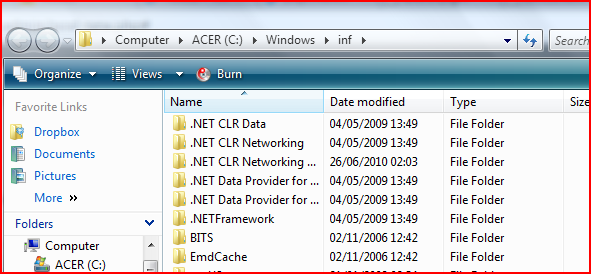 At this point I lost the caller, whether a technical fault or he'd guessed something wasn't right (I can't act for toffee). I'm hoping that I'll get a second bite at the cherry at some point; my missus took a similar call a few weeks back, having spent too long listening to my security rants she immediately spotted the scam, pointed out that I was a 'security guy' and hung up. Information that they clearly didn't have when ringing back (could be more that one cold calling organisation).
Unfortunately, despite my usual laughing at people who fall for these scams I can see how those with less knowledge could fall for the premise. Computers and software regularly phone home to check for updates etc, using this information to identify infected systems would/could make sense, and from an end user perspective I struggled to tell the difference between the sorts of actions I was asked to take by my 'friend' than those I regularly instruct friends and family members when I'm trying to provide remote support.
Be safe and spread the word to those less knowledgeable about computers that this is an active scam. Bottom line is: no legit IT company will call you to fix a problem that you weren't aware of.
–Andrew Waite
<UPDATE>
I just received a new call following the same theme but with a different vector. This time the call came from 'Microsoft Service Department', and with a different convincer; this time I was baby-stepped through to opening the Security log with each entry being 'evidence' of the malware infection that 'at this very moment is damaging my computer and hard drive'. To be fair, in this case they 'could' be right.
Other differences indicate that either this is a different group from the first caller, or they've improved the call systems used to implement the scam. On lifting the receiver I was placed immediately to on hold music before speaking to my 'MS representative' a few moments later. I believe that automated dialling is illegal within the UK, but given the nature of the call I doubt they care much either way.
REMEMBER: Microsoft will NOT call home (or business) users to inform that you've got a malware infection
<UPDATE>